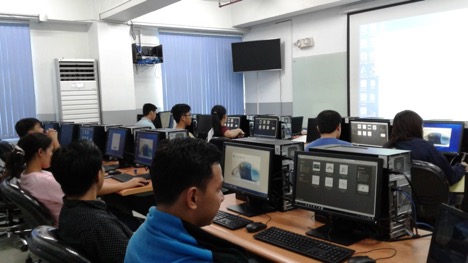 DMCI Homes Computational Laboratory
The DMCI Homes Computational Laboratory (ICE Rooms 303, 304, and 305) was inaugurated on November 16, 2018. It is a specialized laboratory intended for use of ICE faculty staff, undergraduate and graduate students. It includes forty (40) workstations and three (3) servers in total. The programs installed are specialized licensed software that are being used for instruction and research – some of which are related to structure dynamic analysis, building information modeling, civil works, analytical and numerical methods, deep learning, parallel computing, and visualization. Each room also has a Smart TV, and connected by Local Area Network (LAN) and wifi network. All rooms share one A4 and A3-capable printer.

The internet accessibility in these laboratories as well as in the entire ICE Compound is provided by UP Computer Center (UPCC) and Engineering Library through Wi-Fi networks. The use of the resources follows the IT policy of the University.

On the other hand, ICE Rooms 301 and 302 house forty-two (42) desktop computers with programming software used in Mathematical Methods in Civil Engineering courses.