Structural Engineering Group
Structural engineering is the field of civil engineering concerned with the analysis and design of structures such as buildings, bridges, towers, tunnels, and offshore structures. Structural engineering involves identifying the loads acting on a structure, analyzing the forces and stresses arising from such loads, and determining the appropriate structural systems, configurations and materials that will safely resist these loads.
Research Agenda
Earthquake Engineering
Typhoon Engineering
Fire Engineering
Structural Health Monitoring
Novel Structural Systems
Disaster Risk Reduction and Management
Design, development, monitoring, evaluation, rehabilitation and Retrofit of Structures
Computational mechanics and simulation studies and structural modeling
Testing of structures and components
Featured Projects
Vulnerability models are used to estimate how much damage occurs to a given building type subjected to severe wind speeds. Incorporating the vulnerability curve into building exposure databases of a community overlaid by hazard maps that show the return periods of different wind speed will yield information on regions that will be highly devastated by Typhoons.

Project SWERVE aims to identify key building types in Cebu that are vulnerable to severe wind loading and to develop corresponding vulnerability curves through computational and empirical methods. This project is funded by DOST PCIEERD and led by Asst. Prof. Timothy John Acosta.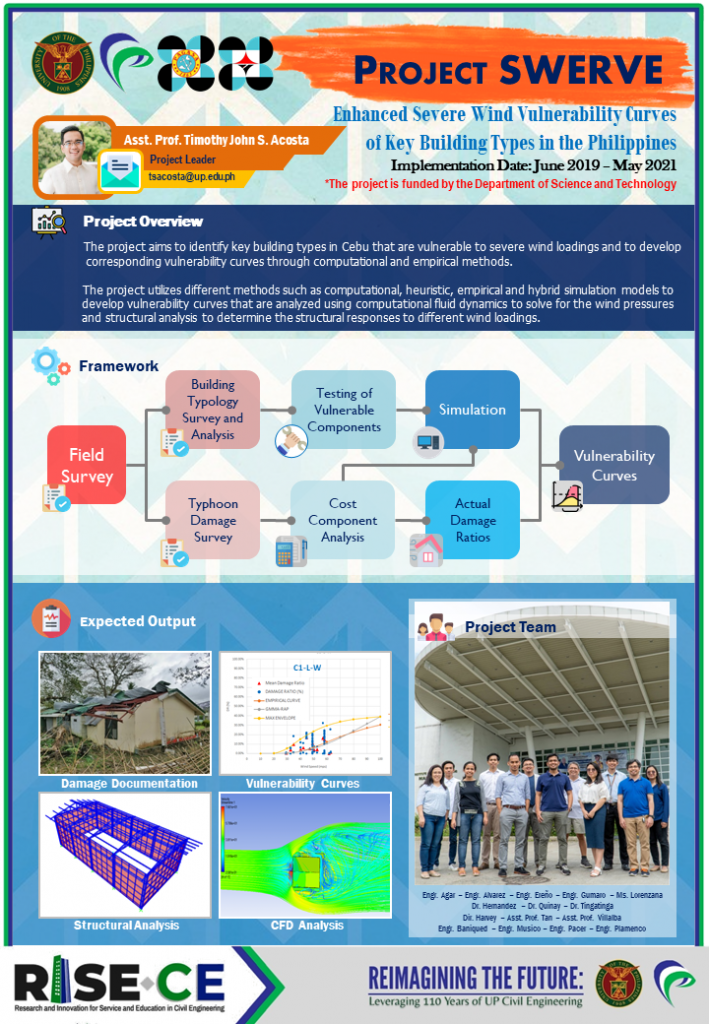 Featured Publication
PEB Quinay, JMM Soliman and ARF Fader. Development of Simulation-Based Approach Using Frame Models Generated From GIS Features and BIM Data for Application to City Seismic Response Analysis of Low- to Mid-Rise RC Structures in Metro Manila. Journal of Earthquake and Tsunami Vol. 14, No. 06, 2050021 (2020).
Facilities